After 12 months in the oven, over 5000 man hours, and countless sleepless nights… Roses is finally ready for release!
The entire story of Roses has been a miracle. From beginning to end we have seen the hand of God reach down, intervene, and shape our project countless times. The journey has been both humbling and eye-opening and frankly, unforgettable.
We never imagined that a short film could be so hard to create, but neither did we dream that it could be so rewarding. We're honored that you've followed our journey so far and we would be thrilled to have you and your entire family attend the official Roses Premiere!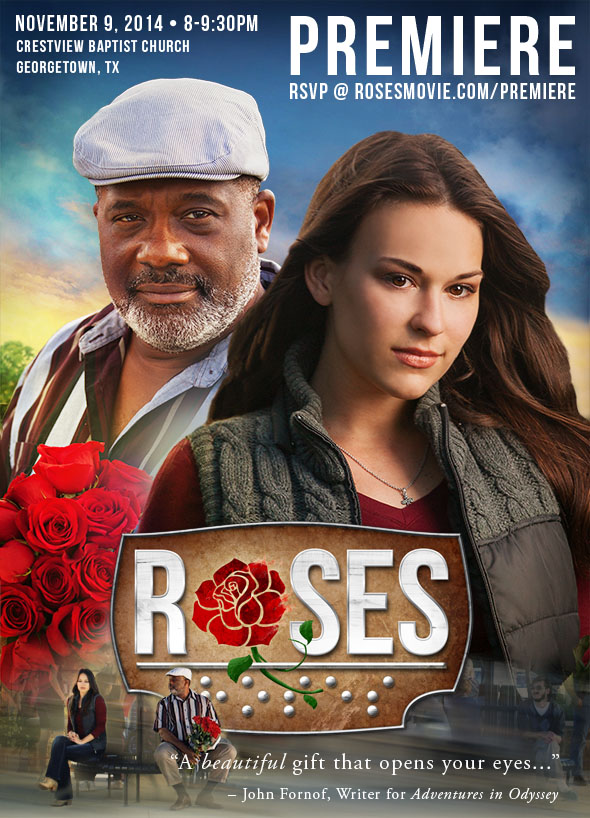 When and Where?
Come and join us on Sunday night, November 9th from 8:00 – 9:30pm at Crestview Baptist Church in Georgetown, Texas. The church is located at:
2300 Williams Dr.
Georgetown, TX 78628
Cost?
It's free! However, space is limited so you'll need to RSVP at the bottom of this page.  Make sure to reserve your seat soon though because we would hate for you to miss out!
What's on the Agenda?
Awesome things! Lots of awesome things!
Roses – Short Film
Synopsis: A young woman, Jessica, has recently been blinded through a tragic stroke and she struggles to deal with the emotions and shock that come from such a traumatic event. Through what seems like a chance encounter at a bus stop, Jessica meets Kevin, an African American gentleman from a previous generation who carries a shocking and unexpected secret of his own.
Together, they face difficult questions and forgotten memories, and ultimately, Kevin must face the shadows of his past so that Jessica may embrace her future. Roses deals with the timeless truths of forgiveness, redemption, and faith while challenging every viewer to live beautifully.
Below is the Roses trailer:
In addition to Roses we'll be screening two other short films. Details are below:
Wanted – Short Film
We'll be screening Wanted, a short film written and directed by our friend Nathan Jacobson and produced by Roses crew member Seth Rice.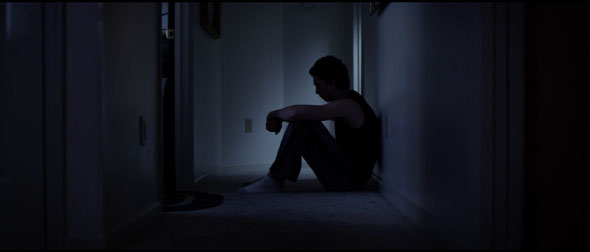 Synopsis: Two days before he ages out of the foster system, Luke finds himself in a new home, faced with the love of a family, and the trauma of his past. Wanted takes a look at family – at what it really means to be part of one. It explores that desire innate in all of us – the desire to be loved, to belong, to be wanted.
Firefly – Short Film
We'll also be screening Firefly, a short film written and directed by Roses crew members Micah and Amelia Austin.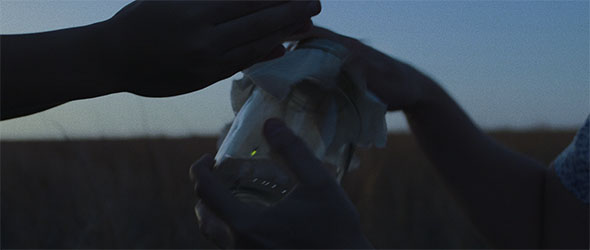 Synopsis: Sophie is a young girl, unable to cope with the sudden loss of her mother and latches onto the memories she has, leaving her brother, Owen, alone to help her.
Special Guests
Finally, we'll have some very special guests in attendance including GregAlan Willams!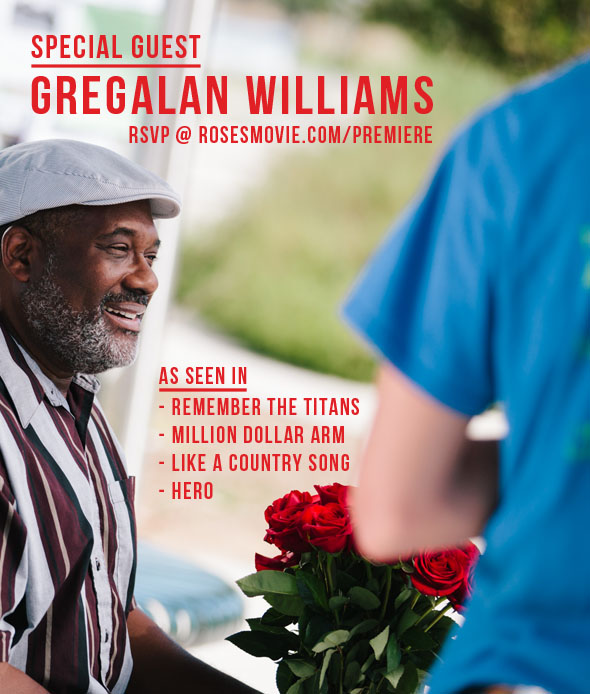 GregAlan has a long history in cinema and has acted in a whole host of feature films including many that you might recognize such as Remember the Titans, Million Dollar Arm, Like a Country Song, and Hero. GregAlan plays the role of "Kevin Rodgers" in Roses and we can't wait for you to see his role this Sunday night.
RSVP Now!
So come and celebrate with us the completion of Roses. We'll have a fantastic evening and we would love to have you there. RSVPs are going like crazy though so make sure to get yours now to ensure that you won't miss out!
See you soon!